Power Utility grids influence the hi-fi quality due to foreign interference
The hi - fi power filter, which was tested by hi - fi experts from the professional journal "Stereo Play", blocks all network interferences and additionally enhances the pure listening pleasure from a high - quality system!
Since 30 years, Bajog electronic has been developing and manufacturing special EMC products and interference suppression filters for the industry worldwide, for the military, for companies with defense products (Air Defense) and for the NATO.
The fulfillment of the quality requirement for performance stability of the EMC products of> 20 years under continuous load is a matter of course for us.
Bajog electronic therefore produces all used components of its own and cannot rely on commercially available commercial products.
Due to the quality of the products and the reliability of compliance with technical specifications, Bajog electronic was asked to develop and produce a reliable interference suppression filter for HiFi and audio Studios and equipment. In the field of theaters, concert halls, recording studios, but also in the private sector, this development guarantees absolute freedom from interference.
Because of the variety of different electrical devices with switching power supplies, IGBT's, thyristor stacks, power transistors, rectifiers, which currently heavily load our power grids and feed peak interference levels of 10KV / μs into the grid, affect other devices on the network and often lead to their destruction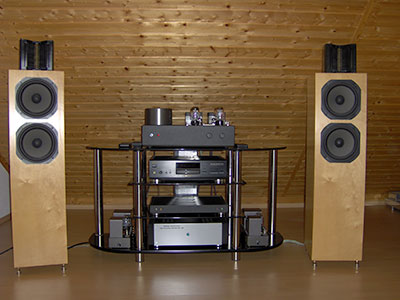 In the case of sound recordings and in the field of audio, especially the offset DC-voltages, which so strongly change the symmetrical value of the positive and negative half-waves of the mains voltage, that an overdriving or overloading of the audio devices can be caused.